Still suffering from writer's block…songs are coming but slowly. A bunch of half written songs but nothing totally finished from start to end. I'll get there though. I managed to finish some guitar work for a Canadian friend, should be showing up on an EP in October.
Studio is almost finished…I've been taking photos here and there throughout the process I think I'll just upload them a one big slideshow once it's finished. Jolene, Dres and I are going to visit some family in Phoenix for a bit and then when I get back we'll be putting in the flooring and the last of the electrical and we'll be done! I'm looking forward to getting a drumkit in there and testing it out the tracking room.
I went to Toys R Us today to look for things to amuse the little guy during our roadtrip tomorrow and saw this: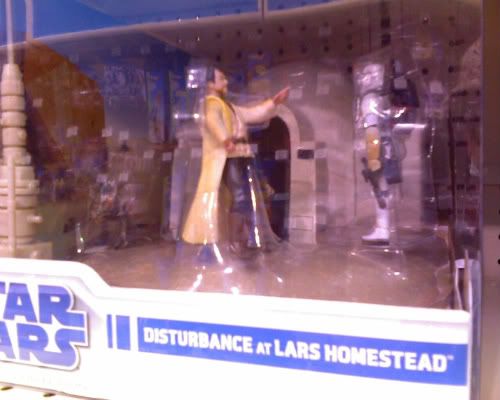 Hmm. Isn't it kind of wrong to make a toy of the most distrubing and violent scene in Star Wars? Luke is off fucking around with some crazy old hermit when he should be picking up some power converters for the farm. When he returns from his day of playing hooky he sees the corpses of his slaughtered aunt and uncle and his home burned down. Gee, let's make some toys of this in case the children weren't already mentally scarred from watching that scene!
Anyhoo, long drive tomorrow. Off to get some ZZZ's.